Webinar "Sustainable Management of Pasture Resources in Kazakhstan" within the framework of a project FAO-GEF "Integrated natural resources management in drought-prone and salt-affected agricultural production landscapes in Central Asia and Turkey ('CACILM2')".
2 October 2020
(14:00 – 18:00 p.m. Nur-Sultan time, 11:00 - 15:00 p.m. Moscow time)
---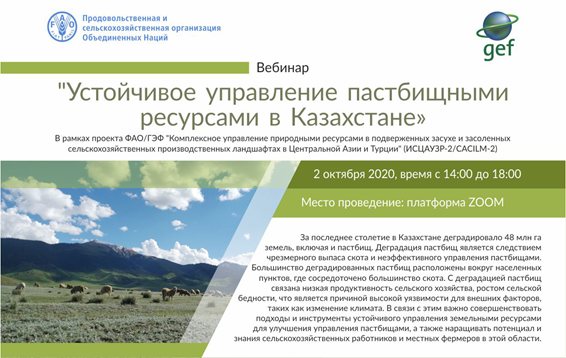 Brief summary
Pasture resources cover approximately 186.4 million hectares and make up 84.1% of agricultural land in Kazakhstan. Kazakhstan has the fifth largest pasture area in the world, and many of these pastures are underutilized due to the lack of basic road and water infrastructure.
Over the past century, 48 million hectares of land, including pastures, have been degraded in Kazakhstan. Degradation of pastures is a consequence of overgrazing and inefficient pasture management. Most of the degraded pastures are located around village communities where most of the livestock concentrated. Degradation of pastures results in low agricultural productivity, increased rural poverty, and makes these areas more vulnerable to external factors such as climate change. Remote pastures are not available for farmers due to a lack of water sources for livestock, infrastructure, land regulations and ownership, undeveloped pasture management. Most of the abandoned pastures are dominated with aggressive weeds with low nutrient quality for animals which has negative effect on biodiversity.
In this regard, it is important to improve approaches and technologies for sustainable land management as well as to build the capacity and knowledge of agricultural workers and local farmers in this area.
Objectives
The training webinar aims to achieve the following objectives:
1) Promote a better understanding of pasture management approaches;
2) Provide a platform for sharing knowledge and information on pasture management
Organization and participation
The training webinar will be organized on October, 2020 in an online format via the Zoom platform. The webinar's target audience includes representatives of government agencies, research / educational institutions, and civil society organizations. The event is also open to other interested parties. The event will be held in English and Russian.
Registration information:
https://fao.zoom.us/j/92078947612
ID: 920 7894 7612
Password: 12345