The webinar will take place on February 24 from 14:00 to 16:00 (Moscow time) on the Russian agricultural online platform "Golden Autumn"
To register for this event please follow the link below:
https://goldenautumn.expoglobus.com/conf/bxAsQxg/ru
Webinar overview. The "National Conservation Agriculture Movement" in partnership with the Eurasian Center for Food Security (ECFS), National Research University Higher School of Economics (HSE) and the UN FAO Eurasian Soil Partnership (EASP) are delighted to invite you to a webinar "Sustainable Soil Management. Climate Change and Agriculture in the Eurasian Region: Threats, Challenges or New Opportunities ".
Soil organic carbon is the basis for all physical, chemical and biological processes in the soil, a regulator of the agricultural products quality, soil fertility and productivity. At the same time, agricultural soils have the potential to sequester atmospheric carbon and regulate greenhouse gases concentration.
Implemetation of soil carbon preseving and increasing practices ad technologies is a prerequisite for sustainable agricultural production. Conservation agriculture based on minimum soil disturbance (i.e. no tillage), maintenance of a permanent soil cover, and diversification of plant species, is considered to be one of the main approaches to preserving and increasing carbon stocks in cropland.
In 2019, Russia ratified the Paris Climate Agreement, which entails certain risks for industry and new opportunities for agricultural producers.
Managing carbon storage in cropland requires careful consideration of the effect of specific interactions between climate, soil and cropping systems on carbon sequestration.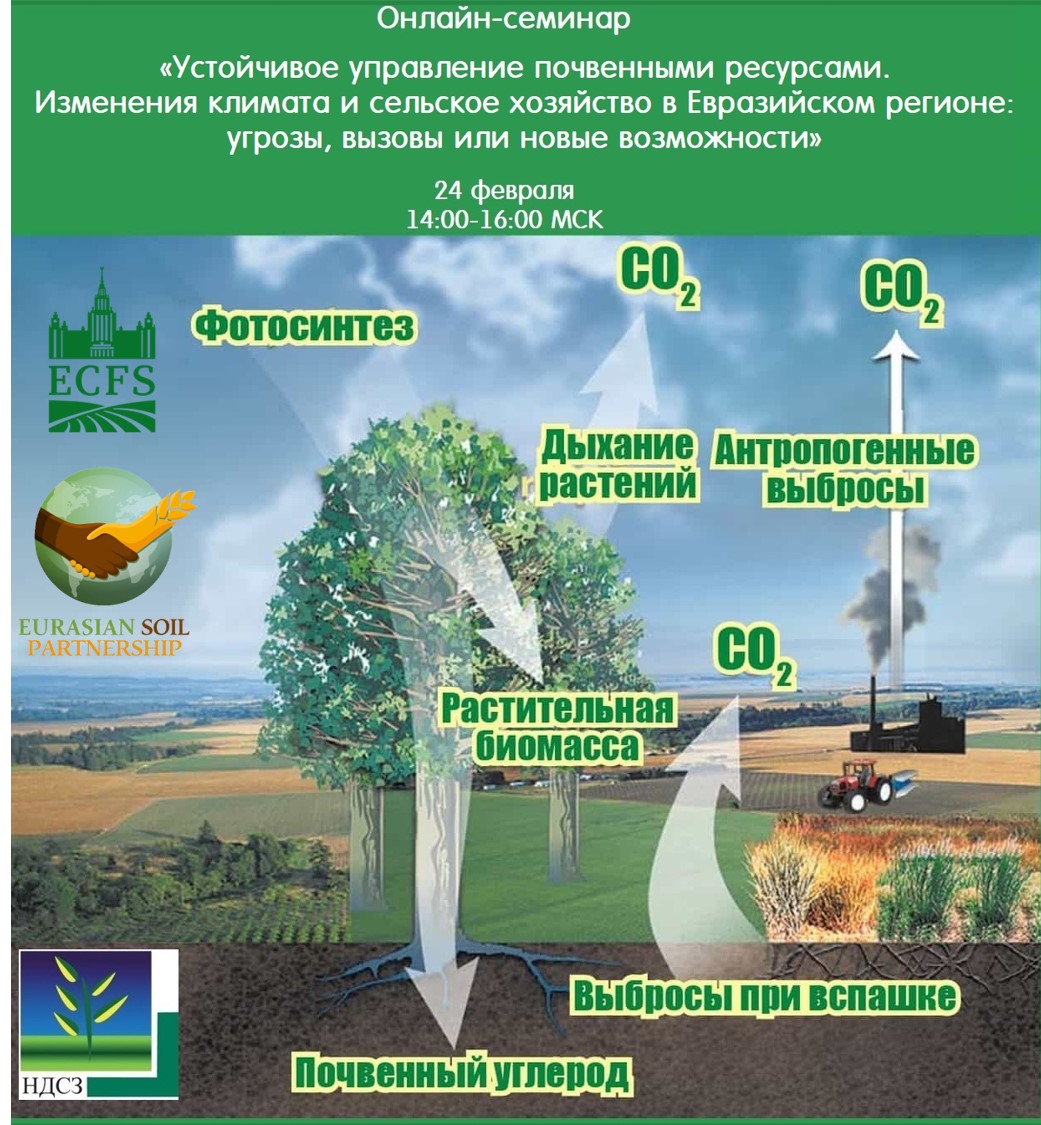 Preliminary agenda
Moderator:
Pavel Krasilnikov, Acting Dean of the Faculty of Soil Science and Deputy Director of the ECFS of Lomonosov Moscow State University (MSU), Corresponding Member of the Russian Academy of Sciences (RAS), professor, execuitive secretary of the FAO UN subregional EASP
14:00-14:10 Welcoming speech
Lyudmila Orlova, President of the "National Conservation Agriculture Movement", PhD in economics
14:10-14:25 Georgy Safonov, Associate Professor at the Faculty of World Economy and International Affairs, School of World Economy, Director of the Center for Environmental Economics and Natural Resources, HSE
Topic: «European Frontier Carbon Tax: Implications for the Russian Economy»
14:25-14:40 Vladimir Romanenkov, Professor of RAS, Head of the Department of Agrochemistry and Plant Biochemistry of the Faculty of Soil Science, Leading Researcher of the ECFS of MSU
Topic: «Carbon sequestration in cropland soils: real prospects, choice of technological solutions and how much will it cost?»
14:40-14:55 Aziz Nurbekov, Senior Drought Risk Management Specialist, FAO Country Office in Uzbekistan
Topic: on approval
14:55-15:10 Andrei Stetsenko, Senior Researcher, Department of Environmental Economics, Faculty of Economics, MSU, Deputy Director for Administrative Affairs, Center for Environmental Economics and Natural Resources, HSE
Topic: «Green economy. Opportunities for attracting investment from the emerging carbon market in the context of the Paris Climate Agreement»
15:10-15:25 Sergei Corcimaru, Head of the Laboratory of Soil Microbiology, Institute of Microbiology and Biotechnology, Chisinau, Republic of Moldova
Topic: «Microbiological tools for assessment and prediction of the impact of soil management on soil organic carbon in high-organic black soils of Moldova»
15:25-15:40 Representative of the Ministry of Agriculture of the Russian Federation (to be agreed)
15:40-16:00 Q&A